[php] Maintaining web access, Weevely
Weevely provides a backdoor on a server, through user and password, you can access a remote shell to execute commands, view files, logs, etc.
This backdoor is made with PHP.
General scenario:
You need shell access on server.
Only have ftp account.
Don't waste time, avoid sysadmin.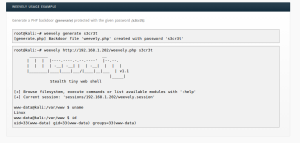 Installation and first run, (GitHub page)